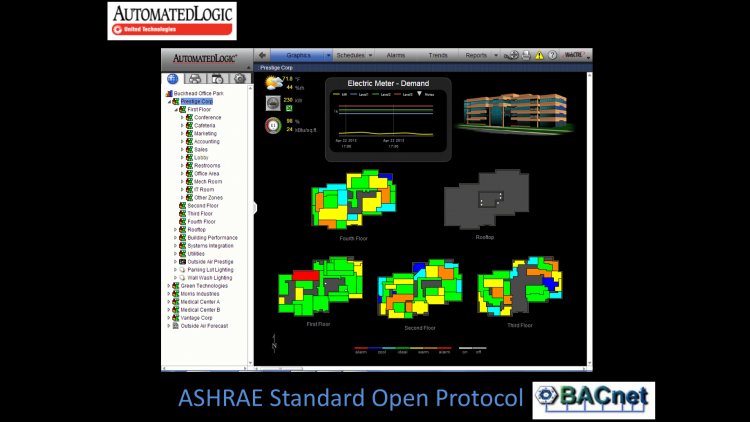 WebCTRL
WebCTRL®
To view a live Demo of WebCTRL click here:
user: guest, leave password blank
Powerful and Intuitive Front End for Building Control
Automated Logic's WebCTRL is a premier building automation system, offering an
intuitive user interface and powerful control features. The potential of WebCTRL is
universal – literally. It enables you to access your BAS from anywhere in the world
through a number of devices – including desktop computers, laptop computers and
tablets and cell phones – equipped with Google™ Chrome™, Internet Explorer® v8
or later, Mozilla® Firefox® v21.0 or later, Safari® (Mac Only) v6. And with no need
for add-on software.
Through a browser you can access all building management functions including: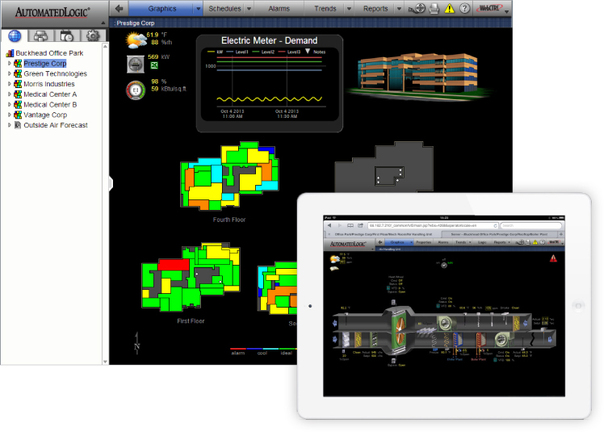 Thermographic Color Floor Plans -
Dynamic color floor plans provide an immediate understanding of conditions in your
building. Graphics can be customized for your specific information needs.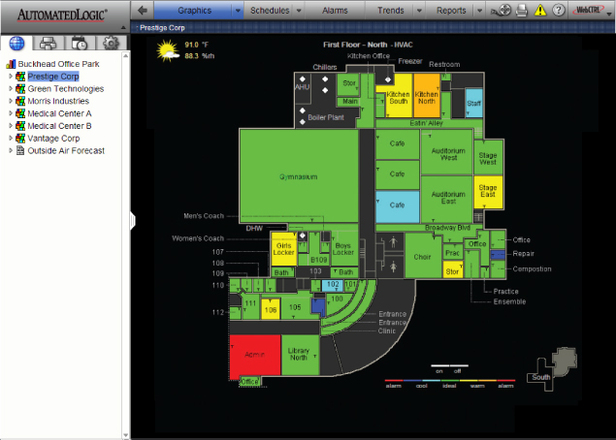 Hierarchical and Group Scheduling –
Supports customized, graphically displayed schedules for building, floors, zones or
equipment groups to flexibly manage energy use.
Trending –
Enables operators to track and troubleshoot building conditions.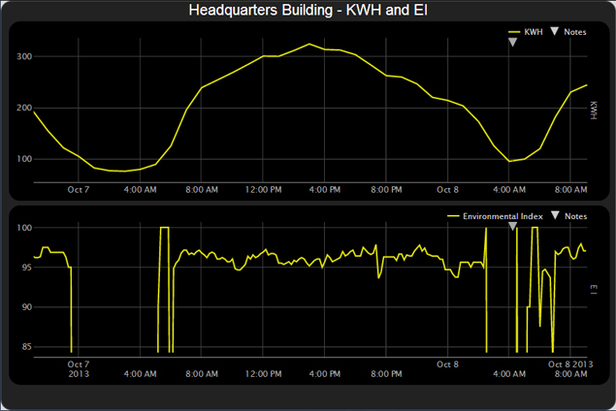 Logical Alarming –
Alarm conditions are graphically represented and sorted by source, type and
criticality.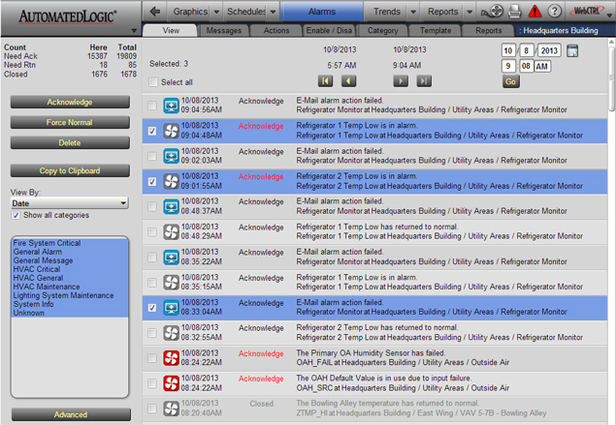 Logging/Reporting –
Extracts and formats operating data from a browser to Acrobat®, Excel® and other
applications with a single click.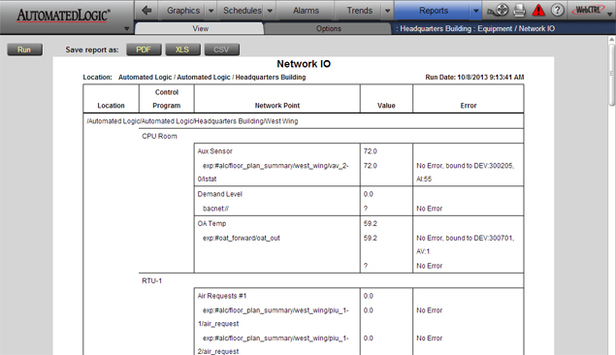 Monitoring and storing your energy usage data –
Helps you manage your facilities' utility consumption.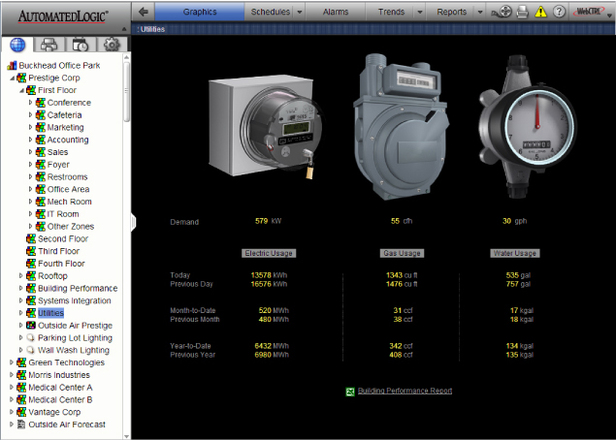 Graphical Control –
Define appropriate zone control setpoints with a simple graphical adjustment.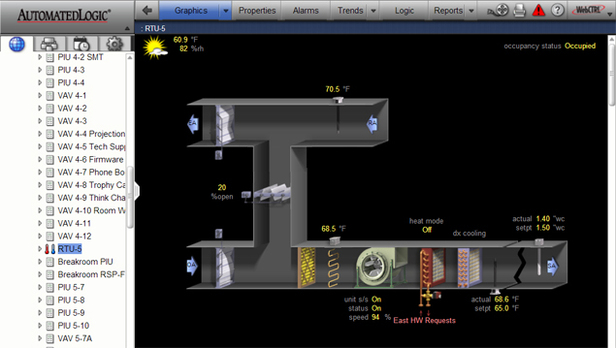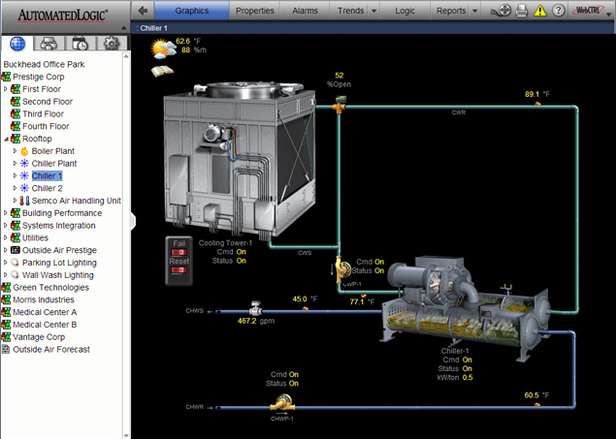 View and Adjust Control Logic –
Our object-oriented approach (EIKON) simplifies and documents your system
sequences.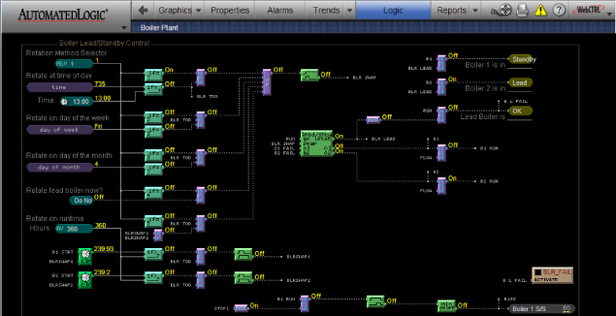 WebCTRL is certified by the BACnet® Testing Laboratory (BTL) as an Advanced
Operator Workstation Software (B-AWS) under the BACnet standard, a data
communication protocol for building automation and control networks that allows
manufacturers to create interoperable building automation products. The BTL B-AWS
advanced certification is the highest level of the three types of BACnet certification
available for an operating system. WebCTRL was designed using native BACnet
communications for true interoperability, operational freedom and flexibility.
Automated Logic was a founding member of the BACnet Manufacturers' Association
(now BACnet International)